C.S. Lewis Center
~Where Christianity and Culture Connect~
The C. S. Lewis Student Center, our fellowship space, offers Christian students an opportunity to experience the "Mere Christianity" expoused by Lewis.  We are a homework-free zone–all readings are provided for you.
Click on one of our Fortnight Foresights below to find out more about our current activites: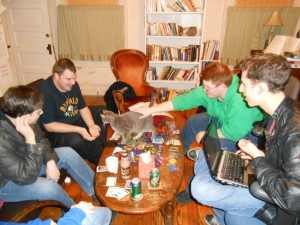 Our schedule for Summer, 2017, is as follows:
Tuesday
11:30 a.m.  Holy Communion
Thursday
7:00 p.m.  "Jack & Friends":  Readings in Lewis and his contemporaries
Dessert & Coffee
Our schedule for Fall, 2017, will be as follows:
 ~A homework-free zone~
Why Lewis?
C. S. Lewis was one of the foremost Christian writers of the 20th century.  His conversion from atheism to Christianity, coupled with his great intellect, allowed him to explain the Christian faith to a wide audience without compromising the core basics of "Mere Christianity".